Release Date: July 19, 1995
….
I haven't made it to the theater in a little bit, but I still wanted to post a review so I'm going to review this old movie that I just watched for the first time.
Clueless, if you haven't already totally figured it out.
This movie stars Alicia Silverstone as Cher in the role she was born to play. The popular dumb blonde who surprisingly cares about other people. Her main goal in life is to save those around her from seeming clueless, until she realizes she has been clueless the whole time. And she likes shopping.
Clueless is a comedy and has solidified itself in our current zeitgeist so I can't really critique this film. Because it's kind of a classic. You know…in the same way that you can't critique Citizen Kane…well maybe not quite.
Still…it's not my point to say if this movie good or bad. I really just want to use this platform to address one issue I had with this story.
And it's a big problem for me.
Cher and Josh.
I mean whose idea was it for Cher to end up with her brother?!? know it's her ex-step-brother and their parents got divorced a long time before, but they act like brother and sister and she refers to him as her step-brother at least until halfway through the film. Am I the only one that squirms when she sees Paul Rudd and Alicia Silverstone lip-locking?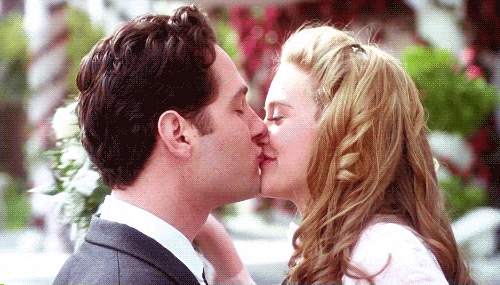 Ew. *shudder*
This film was going in 100 different directions until the last 20 minutes, but Josh??
Don't get me wrong. Paul Rudd is cute, but he's your brother for all intents and purposes. What must her father have said? He's a lawyer and very by the books. He could not have been okay with this.